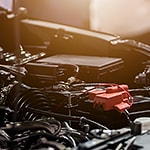 If vehicle maintenance is a concern for you, then you should be aware of what problems can arise with your vehicle's battery. Batteries can suffer damage from a variety of cause, with a big one being environment. If you're in an area that experiences extreme seasons, then your vehicle's battery might be at risk.
Here at Hanania Subaru of Orange Park, we've seen firsthand how extreme temperatures can negatively impact your battery's health. Low temperatures during winter months can reduce the capacity of lead-acid batteries, while high temperatures can actually increase that capacity - while causing the overall battery life to suffer in the long run.
To learn more about how weather and extreme temperatures can have an effect on your car battery, reach out to our team at Hanania Subaru of Orange Park. Here, we'd be happy to answer your questions on what steps you can take to prevent battery damage, as well as address any servicing needs.