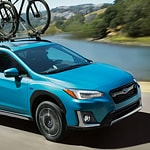 The Subaru Crosstrek is a popular crossover SUV that has a stylish and sleek look. Aside from this, it also provides several useful interior amenities. This vehicle feels more upscale when compared to other vehicles of its kind.
The Subaru Crosstrek provides plenty of extra cargo space and legroom. This can come in handy when you are traveling on long trips. It can also be beneficial because it will allow your passengers to be as comfortable as possible.
This vehicle is designed to keep you entertained but is also designed to keep you safe. The Subaru Crosstrek provides standard features such as Android Auto and Apple CarPlay to help you stay entertained on those long drives. It is also available with Eyesight Driver Assist Technology to keep an extra set of eyes on the road. This ensures that you and your passengers arrive safely to your destination each and every time you travel.